Surgical correction

In the center where we work, we perform endoscopic thoracic sympathectomy and laproscopic sacral sympathectomy, as treatments for hyperhidrosis. We have extensive experience with these surgeries. In our careers, we have executed almost 250 endoscopic thoracic sympathectomies with good to very good results. Best effects of the treatment are achieved from younger persons. Surgery for correction of hyperhidrosis has superior results to Botox, in that it is lasting. Therefore, there is no need to repeat the procedure. This type of surgery is minimally invasive and is very effective aesthetically. Also, the cost of surgical treatment over time is considerably less when the need for continuous Botox injections is factored into the equation. However, we must be certain that the patient is thoroughly qualified for surgery. Certain diseases and other reasons for excessive sweating (such as thyroid disease, diabetes, neurosis, etc.) must be evaluated before deciding on surgery. The doctor will take all variables into account to treat the patient as effectively as possible.
Surgical treatment for the correction of hyperhidrosis has been going on for close to 60 years. However, advances in surgical techniques have come about in the last decade. These endoscopic and laproscopic methods have been performed in the United States and Western Europe for over 10 years. The surgical staff of our clinic has also been performing these techniques as they are performed in other places around the world.
Sweating of the face
Normally, we do not perform surgical repair of hyperhidrosis of the face, for our experience has revealed, that treatment of this type carries more risk and is not efficient in treating the problem. However, we do not exclude that some patients have had a very positive outcome. There is ongoing discussion by researchers to the positive and negative effects of the surgical repair of facial hyperhidrosis and it is too early to make any conclusions.
Endoscopic Thoracic Sympathectomy
This operation is performed using a micro invasive technique called endoscopy. The aesthetic aspect of the operation is very good, and complications are seldom experienced. Our technique is comparable to that used in the United States with our own personal modifications. American physicians use a one or two cut method (to expose the area of interest), which leads to either clamping or severance of the nerve. We execute a three cut method for complete removal of the overactive nerves. According to our experience and research, our method is superior to that practiced in the United States. Also, we do not leave any foreign objects in the body as in the clamping technique. Our technique brings 95-98% efficiency. Nearly 95% or patients are permanently cured of their hyperhidrosis.
Advantages:
The effects of the procedure are lasting. Hyperhidrosis returns very rarely. If sweating does return, it will be greatly reduced
The patient can continue use of antiperspirants
The procedure is safe and complications are rare
The patient can leave the clinic after overnight observation. The full effect of the surgery can be experienced a few days after the procedure
There is minimal scarring
The cost and effect of surgical correction of hyperhidrosis is more advantageous than Botox injections
Important information for the patient:
The procedure is carried out under general anesthesia. Rarely, patients are intubated
We work together with a group of anesthesiologists, who specialize in providing anesthesia for this type of operation
Never has there been a case where a patient has been accidentally infected with Hepatitis B or C, but we strongly suggest getting vaccinated before coming to Poland
We advise patients to remain overnight under 24hour observation not only for adequate post-operative rest, but to alleviate needless complications
Stitches are removed 7-10 days after the procedure
Complications ( there isn't a surgeon that has never had a complication):
Post-operative bleeding
Pulmonary edema
Neuropathy and neuralgia
Scarring
Horner's syndrome
Compensatory sweating. This occurs rarely on the neck, torso, and back. It is very difficult to predict this result
Complications occur rarely but must always be considered.
Laproscopic Sacral Sympathectomy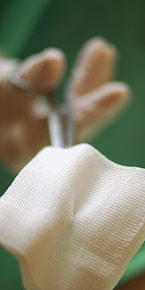 We at the clinic are come of the most experienced physicians in Poland and around the world in performing this type of procedure. We have successfully performed over 300 procedures. The effectiveness, however, is less than that of the endoscopic thoracic sympathectomy, nearing 80%. It is also a more complicated surgery. Along with being more complicated, sacral laproscopy can also leave more scarring. Our experience shows that 90% of patients that have undergone endoscopic thoracic sympathectomy and laproscopic sacral sympathectomy are very happy with the results.